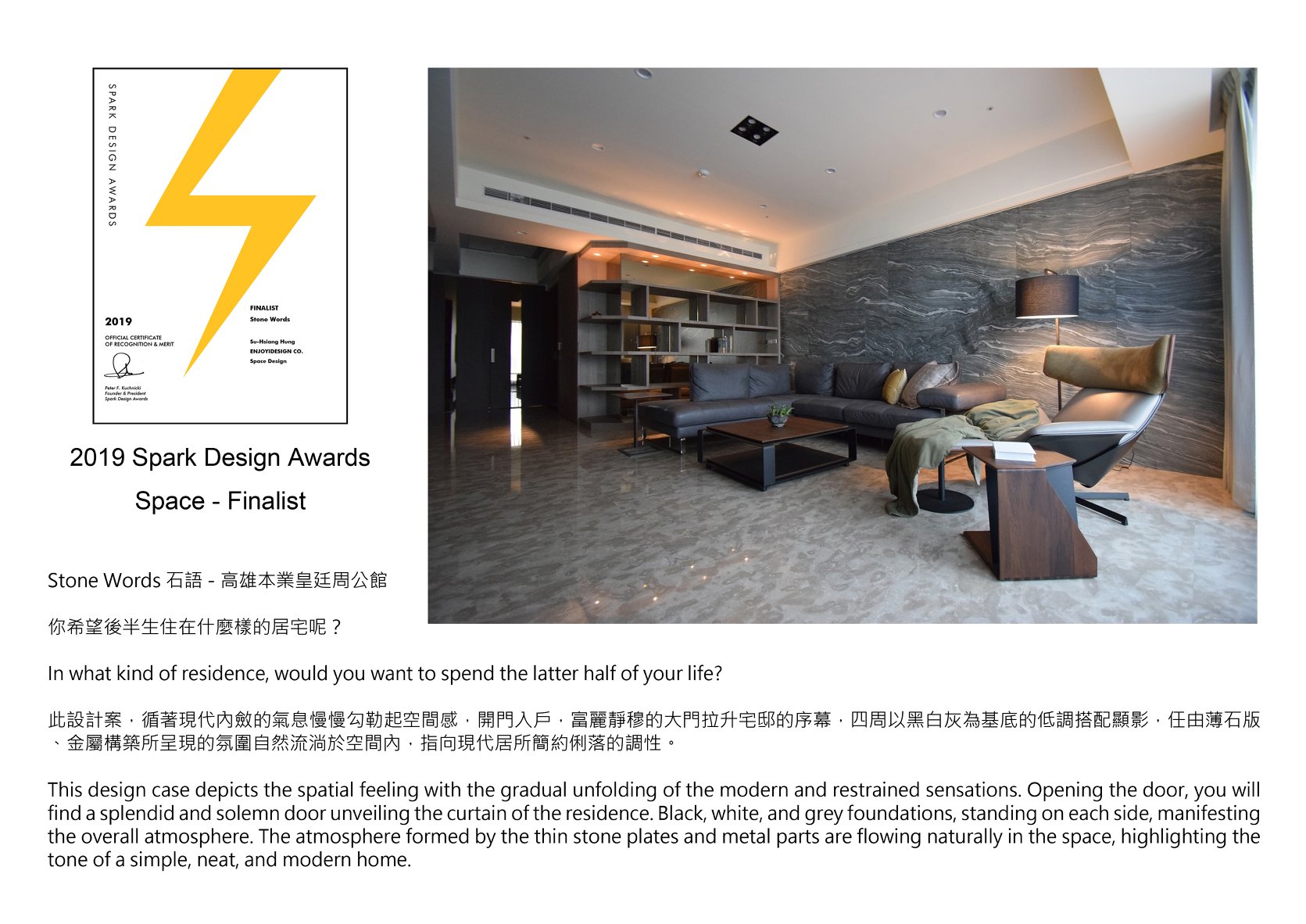 2020-01-08
得獎連結:https://galleries.sparkawards.com/index.cfm?year=2019&entry=166511D8-3A80-8D9A-421D65613DD476D6
更多照片:
https://enjoyidesign.lineapid.tw/zh_TW/line-exhibition-details/no/1580796900001
你希望後半生住在什麼樣的居宅呢?
此設計案,循著現代內斂的氣息慢慢勾勒起空間感,
開門入戶,富麗靜穆的大門拉升宅邸的序幕,
四週以黑白灰為基底的低調搭配顯映,
任由薄石版、金屬構築所呈現的氛圍自然流淌於空間內,
指向現代居所簡約俐落的調性。
整體空間運用了豐富的沈穩石板,
金屬線條結構,各空間彼此相互串連,
為簡潔大器的現代輪廓賦予細緻的東方底蘊精髓,
盡情體現人文與現代交融的和諧美學。
空間上的格局並無太大調整。
原先的儲藏空間設置於走道側,
格局的安排上我們讓它與鄰近的房間打通成了更衣室,
另於客廳旁設置儲藏室,
讓整體的格局安排更具機能性且流暢俐落。
材料使用上,
大量運用西班牙進口薄石板於沙發背牆、電視牆、主臥室與化妝櫃,
進口薄石板更為輕薄耐用,
且與櫃體結合時,
在細節邊框處理更加美觀精緻。
特別一提薄石板化妝櫃與木作結合,
克服以往多採用傳統大理石的施工限制,
客廳一側的開放式展示櫃連接客廳與儲藏室,
公領域呈現為開放式區域,
空間輕盈之餘更令各區域的界線模糊,
連為一體,視覺效果延伸且開闊。
靜謐的底蘊與沈穩色彩交織,預示著對未來生活的美好願景,
讓身心靈得以獲得源源不絕的撫慰與療癒。
Stone Words Finalist Competition:
Spark:Space Designer: Su-Hsiang Hung - Director Design
Type: Interiors: Residential: Houses, Apartments, Flats
Company / Organization / School: Enjoyidesign Co., Ltd.
Team Members: Su-Hsiang Hung
In what kind of residence, would you want to spend the latter half of your life?
This design case depicts the spatial feeling with the gradual unfolding of the modern and restrained sensations.
Opening the door, you will find a splendid and solemn door unveiling the curtain of the residence.
Black, white, and grey foundations, standing on each side, manifesting the overall atmosphere.
The atmosphere formed by the thin stone plates and metal parts are flowing naturally in the space,
highlighting the tone of a simple, neat, and modern home.
The overall spatial use enriches the stable stone plates.
The metal line structures connect with each other, giving the simple and generous modern contour with delicate eastern essence.
It fully manifests the harmonious beauty with the modern atmosphere, without any major modification in the spatial layout.
The original storage space placed at a side of the hallway and the neighboring rooms are combined to become the changing room.
At one side of the living room, another storage space is installed to complete the arrangement of the layout.
It allows the overall layout to become more functional, smooth, and neat.
Regarding materials, we use plenty of thin stone plates imported from Spain on the wall behind the couch, the TV wall, the owner's bedroom, and dressing table.
The imported stone plates are thin and durable.
When it is combined with the cabinets, it looks much more beautiful and refined in the detailed finishing of the frames.
Worthy of mentioning, the combination of the thin stone plates with the dressing table and wood works, it overcomes the limitation of working with traditional marbles.
The open display cabinet at one side of the living room connects with the storage room to allow it to become an open space.
The space then becomes lighter and blurs the boundaries of different zones that combine into one to constitute a spacious and extending visual effect.
The essence of tranquility harmonizes with the stable color, foretelling the vision of a pure and beautiful future.
It gives people physical and mental comfort as well as being therapeutic.